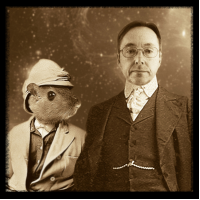 Tom Hoffman
Science Fiction, Fantasy, Teen & Young Adult
Tom Hoffman received a B.S. in psychology from Georgetown University in 1972 and a B.A. in 1980 from the now-defunct Oregon College of Art. He has lived in Alaska with his wife since 1973. They have two adult children and two adorable grandchildren. Tom has been a graphic designer and artist for over 35 years. Redirecting his imagination from art to writing, he wrote his first novel, The Eleventh Ring, at age 63.

The Bartholomew the Adventurer Trilogy and the Orville Wellington Mouse adventures are multi-leveled stories which have been compared to Chronicles of Narnia, The Hobbit, Neverending Story, etc. The books were written for my grandchildren to enjoy as children, and again on a deeper level as adults, with their underlying themes of ethics, metaphysics, philosophy, quantum physics, and spirituality. They were written to provide an alternate way to view the world we live in. To see all life as a single force, all life equally precious, no matter the form. A world where violence is not necessary, a world where the protagonists are changed forever by their difficult choices, by their own sacrifices. A world of empathy, kindness, and love. And of course, ten foot tall ancient robotic rabbits and gigantic carnivorous centipedes living on post apocalyptic planets!
Recommended Featured Books
"The cave you fear to enter holds the treasure you seek."
"All that we see or seem is but a dream within a dream."
"We meet ourselves time and time again in a thousand disguises on the path of life."
"Man's task is to become conscious of the contents that press upward from the unconscious."
"All chaos is order misunderstood."
"Every dream is real until you wake up."
"The universe begins to look more like a great thought than like a great machine."